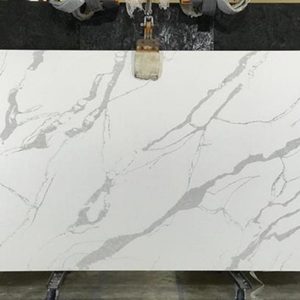 Color: White Calacatta Quartz
Code:QD205
Slab Size: 126"X63", 118"X55" etc
Vanity top Size: 25"/31"/37"/49"/61"/73" x22"
Edge Style: Eased, Flat, Round, Radius, Bevel, Laminated, Ogee etc.
Water absorption: 0.04%
Packing: Strong wooden bundle
White Carrara Quartz is a kind of white marble looks quartz, with light black intermittent light stripes. This design style can significantly enhances the richness of the large-format content. In general, it is very suitable for kitchen scen.
Quartz is one of the top material options for kitchen countertops. Quartz countertops are man-made engineered and formed by combining 93% ground quartz with 7% resin, polymers and pigments. After being ground, the quartz is then mixed with pigments to give it colour and then fused with resin adhesives under intense pressure and heat to form a solid piece. Recycled glass or metallic flecks can also be added to the mixture for a glimmering, eye-catching design.
Do you need drawing service or a quotation?